Home-Grown Iraqi Heroes Rescue Hundreds of Yazidi, Christian, Shabak and Muslim Women and Children from ISIS Terrorists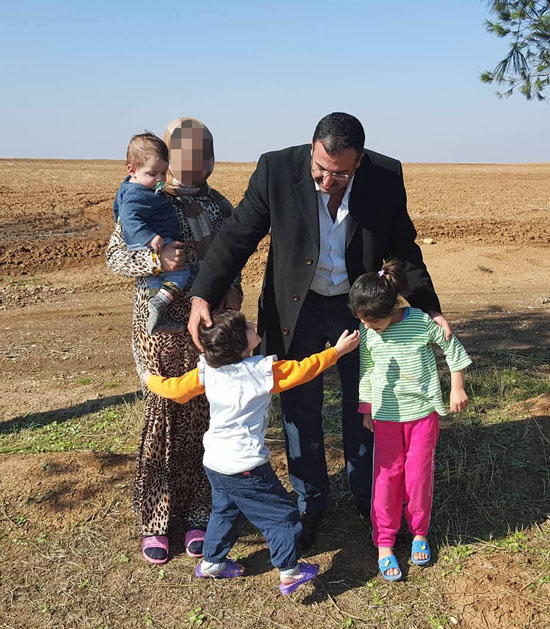 By: Andrew Williams, Jr and Dler Ibrahim Ismael, July 27, 2016
Universal Citizens Media Network (UCIT)
Duhok – Kurdistan Region of Iraq – While the June, 2016 Chilcot Report faults the U.K for kowtowing to the U.S. decision to initially send troops to Iraq, the Obama Administration in July, 2016, announced plans to send more troops to Iraq to battle terrorists from around the world.  As the fighting continues on Iraqi soil, Iraqi citizens are single-handedly doing the deadly work to rescue Yazidi, Christian, Shabak and Muslim women and children from the terrorists.
In the following interview, UCIT Citizen Journalist, Dler Ibrahim Ismael, interviewed one of these home grown Iraqi heroes, Abu Shujaa, who says, "We have helped rescue 465 Yazidi women and girls from the clutches of ISIS and we are ready to rescue more abducted Christian, Shabak and women from Muslim terrorists."
When did you start task of rescue the abducted Yazidi women from the hands of ISIS terrorists?
– After ISIS occupied Sinjar city in 3.8.2014 we went to the mountain and formed defensive teams to stop the brutal ISIS attacks.
– We had lost everything when we lost our land, including our women and children. We lost the most precious thing we have in this world.
– We formed a defensive squad and not offensive. We stayed there a few days and began preparing plans to save more than 5,000 people kidnapped by the ISIS terrorists from Sinjar.
How was your first operation to rescue the abducted?
– By virtue of my personal relationships with the inhabitants in the occupied territories ISIS has captured in Syria and Iraq, I began this humanitarian mission and with God's help began our   operation in September of 2014. We rescued seven girls in Raqqa that were in a Australian ISIS terrorist House (city of Raqqa in Syria) and we rescued more in Gaziantep City, and  then at the Ibrahim Khalil border port and returned them all to their families.
– We started from this group and thank God we have been having success in liberating in one month 45 women, girls and children from the area of Raqqa, Tabaqa, Aleppo and we have undertaken similar tasks in some areas inside Iraq.
– Altogether, we freed 377 Yazidi woman and girls and my last mission was saving one woman and two children in the Aleppo area.
Are any local or international organizations helping you in the rescue operations?
– Unfortunately, no domestic, regional or international organizations are helping now. At the beginning the Prime Minister's Office did some help, but because of the economic conditions, such assistance has been cut.
– There are many opportunities to rescue the abducted girls and women, but because of the absence of money for equipment and vehicles we can't save them.
– Each operation, including payments through intermediaries, costs 3000 to 5000 Dollars, depending on the quality and the remoteness of the area. We have lost many opportunities because of lack of material assistance.
How are the rescue operations carried out?
– Our teams gather information in areas controlled by the ISIS terrorists, and collect information about the places of residence of women abducted and determine the time and place to rescue them from the clutches of ISIS. Most of the cases the rescues are dangerous and risky, but our souls consider it a humanitarian act and a duty towards our compatriots.
Is there a moral support for your efforts?
– Unfortunately, there is no encouragement or support local or international; the only public honor we have received was through the "Iraqi Family Protection Fund" Discretionary award.
What about the status of women there?
– The situation is so bad till now that so far more than 70 Yazidi women have committed suicide, either they burned themselves to death, hung themselves from the roofs of houses, electrocuted themselves or drowned in rivers.
– Whenever emancipation is delayed, it becomes more difficult to free the women, especially girls, because of births from raping they become attached to their kids and also the continued brain-washing of their ideas by ISIS.
– There are other cases of groups of children being taken from these women and incarcerated in a camp near the Farouq training in Raqqa and then becoming groomed terrorist as ISIS solders.
Do you have information regarding the abduction of Christian women by terrorists?
– According to the information there are 260 Christian woman hijacked by al ISIS in the Palmyra area (an ancient city in Syria) and Deir al-Zour, been abducted from villages near Al-Hasaka. and I'm ready to rescue the Yazidi, Christian, Shabak and Muslim abducted women from terrorists.
Report By: Dler Ibrahim Ismael – Duhok – Kurdistan Region of Iraq
Andrew Williams Jr Conversations with Citizen Journalists on the Universal Citizens Media Network (UCIT)