Nigeria Leaps into Space Age Technology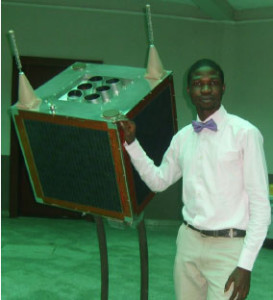 By Oluwasegun O. Onibudo and Andrew Williams Jr.
Lagos, Nigeria – Soon after Nigeria in 2001 formed its space agency NASRDA (National Space Research and Development Agency), it launched NigeraSat1 (shown to the left) into the low Orbit.
The NigeriaSat-X line, fully designed, assembled and tested by the Nigerian Engineers in readiness for the complete "Made in Nigeria" satellites, is equipped with earth observation sensor of 22m spatial resolution. These satellites have certainly revolutionized data gathering in Africa in particular and the world at large.
In 2003 Nigeria's first Earth Observation Satellite, NigeriaSat-1 was launched into the low Orbit with 32m medium resolutions in three bands of Red, Green and Near Infrared. This made available data to Nigeria and the world for resource mapping, disaster management, environmental monitoring and sustainable development.
The availability of data from NigeriaSat-1 has recorded successes in the use of the imageries and also increases in knowledge and skill in interpretation of satellite data. The NigeriaSat-1 is one of the Disaster Monitoring Constellation (DMC) satellites and was the first satellite to send back images of the east coast of US following Hurricane Katrina. It has also assisted with imagery to aid workers following the 2004 Indian Ocean tsunami.
The success has driven to the launch of its communication satellite, NigComSat-1 in 2007.
The quest and the need to build on already existing infrastructure, while developing indigenous capacity, has led to the concept of NigeriaSat-2 and NigeriaSat-X for higher resolution data for more applications in urban development, security, damage assessment and detailed survey.
The NigeriaSat-2 is a sophisticated Earth-Observation Satellite with 2.5m panchromatic, 5m multi-spectral and 32m (medium resolution) multi-spectral for NigeriaSat-1 data continuity.
Next step? Launching a Nigerian Astronaut into Space.