Marc Ross to Participate in Roundtable on Investing in Cannabis Companies for Small Cap Nation's Cannabis Thought Leader Series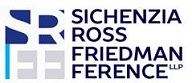 New York, NY / June 15, 2016 – Founding partner Marc J. Ross will speak at the Small Cap Nation roundtable in New York City on June 16, 2016 at 11:50 am on the current opportunities and challenges of investing in the cannabis industry. Topics addressed will include the current state of the industry, companies' performance, and the legal, regulatory and other factors affecting the potential of the burgeoning industry. Also participating will be industry CEOs and investors. The roundtable will be held at Sichenzia Ross Friedman Ference LLP's offices. The discussion will be recorded for distribution across Small Cap Nation's network and partner channels.
The Cannabis Thought Leader Series is being held in conjunction with the Cannabis World Congress and Business Expo.
Sichenzia Ross Friedman Ference LLP
61 Broadway | 32nd Floor | New York, New York 10006
T: (212) 930-9700 | D: (212) 398-5541 | F: (212) 930-9725
mross@srff.com | www.srff.com
Source: Sichenzia Ross Friedman Ference LLP